You're welcome to another Art Blog. My name is Veronica Huacuja. I'm a plastic artist and an online art teacher for groups and individuals. I have some good practical tips for your art process. Hope you find them helpful.
A GOOD RECOMMENDATION REGARDING OUR ART MATERIAL. Don't throw away the artwork you consider at the moment unsatisfactory. Don't throw away the paper or canvas on which the results were not what you expected. This is because there's still a good use for it. Let's keep these materials and use them for a better achievement…, but this new use must be a strategic one.
One interesting thing we can do in our next work is to leave some elements of the original painting. This means, not cover with paint the whole original failed artwork, but to integrate it into the new one. This will improve the expression on our second try.
To exemplify the above, I add the data sheet of the work I'm presenting: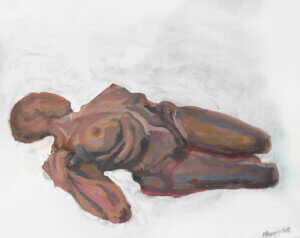 Title: Woman 10
Artist: Veronica Huacuja
Medium: Acrylic on paper
Size: 61 x 48.3 x 0.1 cm
Year: 2022
Collection: Women
Visit any time my patron's feed where you'll find images that describe the process of "Woman 10" using a failed painting on paper I made some time ago: https://www.patreon.com/posts/61243765
A SECONDARY TOPIC. I'd like to talk about the relevant use of physical models in our artwork. If, on the contrary, we use a photograph as an initial resource, we'd be working on another artist's interpretation, in this case, the photographer (copying the gesture or other elements he already solved). And I add something relevant, we'd be working on a two dimensionality (height and width), not on a three dimensionality (height, width and depth). So, the recommendation is to use a physical model and to make our own interpretation out of it. Ask your friends or relatives to pose for you. It'll be worthwhile. 
By doing the latter, we improve the coordination of our sight, brain activity and physical capacities (the hand skills). This training will help us achieve rhythm, dynamism, and gesture in our work. 
MATERIAL
- An unsatisfactory work on paper or canvas.
- Acrylics paintings.
- 3 brushes. The size of the paper or canvas determines the size of the brushes we have to use on the work. When we paint on a small surface, the brushes must be small and vice versa. For this work, I used rectangular brushes less than an inch thick.
- Water.
LET'S MAKE A MEANINGFUL REFLECTION FROM THE ABOVE. As with everything in life, our art materials are resources that are limited, so let's use them creatively... and by doing so experimenting and finding new expressions in our work.
MY SOCIAL MEDIA
Visit any time:
My Body of Art 
My Art Shop 
Other Art Blogs 
Art Posts and Videos at Patreon
Instagram: veronicahuacuja
TikTok: veronicafineart
Youtube: Veronica Fine Art 
Email: art@veronica.mx
Thank you for visiting.