Hello, my name is Veronica Huacuja. I am a plastic artist and online art teacher. I've created this content for a group class and I hope you enjoy it.
PREVIOUS COMMENT. As artists or art practitioners, we must use all the resources we have at our disposal. Following these criteria, this time we explored the work of the painter Lucian Freud (1922-2011, Germany), one of the most important portraitists of the 20th century–and Sigmund Freud's grandson, the founder of psychoanalysis–. We focused on one of Lucien Freud's portraits of Leigh Bowery (1961-1994), an Australian artist. 
THE EXERCISE. I developed a plasticine model based on one of Freud's portraits of Bowery, "Nude with Leg Up (Leigh Bowery)". In this way, we had endless poses of the model, to which I applied different lights. We worked with the ones we found the most interesting, and drew them with crayon on paper.
I'm adding some sketches that I made in the session, and an image of the plasticine model.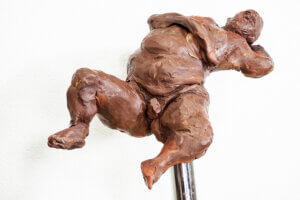 OUR ART GOALS.
- We had to achieve the gesture of the human figure, considering the volume delineated by the lights applied to the plasticine figure. Gesture, as we may know, is a "movement" of the body that expresses a feeling, a sensation.
- We experienced the powerful use of a black, thick crayon on paper.
- For those who didn't know the painter's work, got to know it, and also we got to know some facts about Freud's biography, such as the relationship established with his model. When I introduce a new artist to my students, I always refer to the man (in a comprehensive sense, referring to men or women) and his work. I believe that's the most complete way of approaching an artist and his work.
THE DYNAMIC OF THE SESSION. Everyone, including me as a teacher, made the exercise. As we did so, I gave guidance, according to the needs of the participants. And, meanwhile, we worked, I displayed and commented on my progress on the screen.
To know the plasticine model and some other sketches of the work, please visit https://www.patreon.com/posts/67831359
MATERIAL.
· A thick black crayon.
· Sketch paper. Size and type: 29.7 x 42 cm, 95 g / m2 (it's a thin paper).
EXERCISE DURATION.
2 sessions of 60 mins.
LET'S MAKE A REFLECTION FROM THE ABOVE. Getting to know the oeuvre and life of the artists of all times expands our artistic and personal experiences. So, the comprehensive study of these artists is something we must continually do.  
Visit any time:
Some more info and images of the work: https://www.patreon.com/posts/67831359
My ART SHOP: https://veronica-huacuja.pixels.com
My BODY OF ART: https://veronica.mx
I offer an ONLINE PAINTING PROGRAM in traditional or digital techniques: https://veronica.mx/online_painting_course
Other POSTS AND VIDEOS: https://patreon.com/veronicahuacuja
Thank you for reading.