Welcome to another Art Post! My name is Veronica Huacuja. I'm a plastic artist, and an online art teacher. I have some good tips for your painting process.
As an artist or art practitioner, have you ever started your day not knowing what your next project might be? It occurs to most of us, and while this circumstance happens, we can turn to study the work of prominent artists, and practice with their work.
SOME PREVIOUS QUESTIONS.
Do you explore the work of other artists from different genres (photographers, sculptors, filmmakers, etc.)?
Do you find useful for your own work to do this research?
Do other artists' artwork influence your own work?
I do these activities, and I recommend you to practice them. It enriches our work.
A PERSONAL ART EXPERIENCE. This time the oeuvre of the photographer John Coplans (1920-2003, United Kingdom) amazed me. I based the following artwork on his photograph, Self Portrait: Torso With Large Upper Arm II, 1985.
To exemplify the above, I add the following data from the piece I'm presenting:
Title: Body Study 62
Artist: Veronica Huacuja
Media: Oil on paper
Size: 28 x 21.3 x 0.1 cm
Year: 2019
Collection: Human Body
ACTIVITIES.
- Let's explore and learn from the eminent artists of all times, and permit their influence on our work.
- Self-practice the art procedures I accomplished in "Body Study 62", which I describe in a video (1:42 min.) you can find at https://www.patreon.com/posts/practicing-our-30744058
MATERIAL.
-An oil paper will do the job just fine. I recommend the brand Fabriano, an Italian paper of at least 300 g/m2, which is a thick paper prepared for oil painting, or else a canvas. Always use material of excellent quality for your work. The size I recommend is the same as I used in this artwork: 28 x 21.3 x 0.1 cm.
-Thin, circular and rectangular brushes (half an inch wide, at the most). The size of the brushes depends on the size of your paper or canvas: bigger brushes for bigger areas and vice versa. 
-Turpentine
-Oil paints
LET'S DEDUCE A SIGNIFICANT MEANING FROM THE ABOVE. Would searching and studying the prominent artists' body of art be a worthwhile experience whenever the ephemeral "goddess of inspiration" is not around? Oh, yes, great masters can teach us so much!
Visit any time:
My ART SHOP: https://veronica-huacuja.pixels.com
My BODY OF ART: https://veronica.mx
I offer an ONLINE PAINTING PROGRAM in traditional or digital techniques: https://veronica.mx/online_painting_course
Other POSTS AND VIDEOS: https://patreon.com/veronicahuacuja
Hope you enjoyed the post. Thank you for dropping by. 
Summary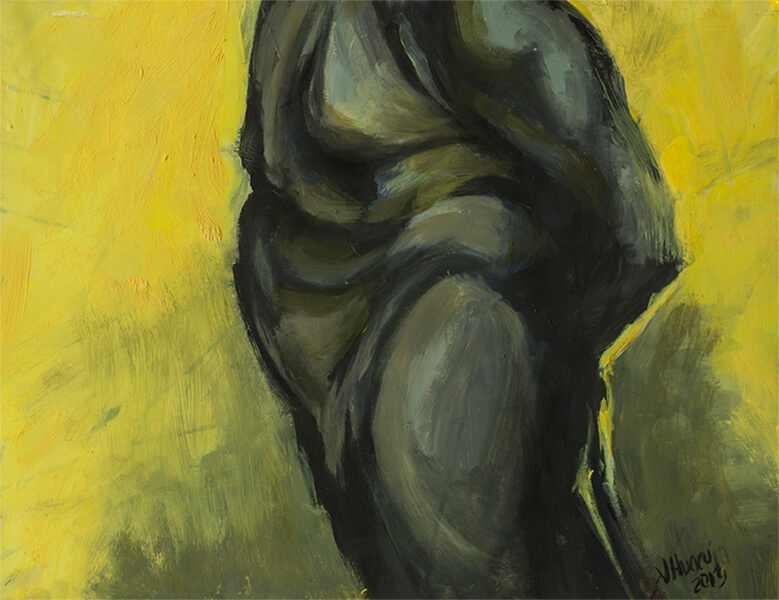 Article Name
Let's Get Inspired By Great Artists For Free
Description
One thing that calls my attention as a visual artist is the oeuvre of other artists. This time the work of the British photographer, John Coplans (1920-2003) amazed me.
Author
Publisher Name
Publisher Logo