Welcome to Art & Mindfulness for Business Groups. Virtual (1) Program for Creativity and Well-being! (2) (3)
I am Veronica Huacuja, a professional mixed media artist (painter, sculptor), and an art educator. Likewise, I serve as the founder and CEO of https://multimediosintegrales.com (since 2009),  an educational and Social Responsibility consulting firm, where I've developed this program that I facilitate within a business environment. (4)
My teaching encourages participants to a journey that provides them with tools that enrich their lives, improving their intra and interpersonal life through artistic enjoyment and mindfulness meditation (MM). Likewise, the program promotes a learning environment of mutual support among the group. 
The program has a self-care orientation, and during and after its implementation, the participants become autonomous to practice their own self-care. The latter, because I provide them with the tools, guidance, and exercises to help them regulate their intra and interpersonal lives, and explore their creative expressions on their own, which leads to gaining the beneficial skills that this program offers.
Primary Goal for Businesses.
The primary goal of this program is to improve the quality of life for employees at your institution. By aligning with your company's internal Social Responsibility Program, it addresses the human standards aspects of your organization. Therefore, it promotes both personal and professional growth for your employees, leading to their enhanced performance and overall results for the company.
Also, these efforts that businesses do for their employees are strategies that make up an essential part of the public image of the companies' reputation. Therefore, these endeavors increase the worth and reputation of any company or brand. 
Specific Program's Goals for Participants.
1. The encourage of participants to incorporate an artistic hobby into their daily lives (drawing, painting, or clay sculpting). This artistic journey provides individuals with an avenue for self-expression and self exploration. Artistic creation on an intrapersonal level evokes a wide range of emotions, provokes introspection, and sparks contemplation, leading to personal growth and a deeper understanding of oneself.
Moreover, art transcends the boundaries of the individual and extends into the realm of interpersonal connection. By integrating art into group settings it becomes a powerful tool for fostering social bonds and encouraging meaningful conversations. Engaging in artistic activities as a collective promotes collaboration, empathy, and a shared sense of purpose and belonging, where diverse perspectives converge and mutual understanding is cultivated.
These strategies encompass not only the practical aspects of artistic creation, but also the facilitation of a supportive and inclusive environment. I guide participants through various exercises and techniques that unlock their creativity, nurture their artistic skills, and these enhance their overall well-being.
2. Adopt a daily mindfulness practice. This program is aimed to be an introductory practice to MM. It encourages participants to embrace its practice because it entails self-awareness, stress relief, self-regulation, and with it, achieve overall well-being.
The companies' interest in giving their workers the mindfulness experience to enhance their lives is grounded in a multitude of research studies. These researches show the wide-ranging benefits of incorporating the mindfulness practices within diverse populations, workers among them. (5)
3. For those companies that recruit foreign, high-skilled employees in their workforce. I adapt certain elements of the program that arouse these employees' interest in the host country's artists and their masterpieces exhibited in national museums of art. The aforementioned, because artistic expression and cultural knowledge enrich diversity and understanding.
4. A peripheral aim. Knowing the family importance, each session of the program fosters the participants to communicate their experiences with their families (spouses, children). This to create a spill of human experiences that seek the well-being of the students within their family environment.
Other Relevant Aspects. 
I attend to the interests of the group, their level–beginners, intermediate, advanced–individual personalities, and learning and art creation rhythms.
The teaching I do is in real-time.
The Program Courses. The Educative Offer.
The program comprises 6 courses in painting and drawing and clay sculpting. With my guidance and advice, the Business Leader and the group must choose one course of their interest, as well as its techniques, and materials.
Please visit the following link to know the program and its 6 courses:
 Art Courses (description in English)

The Courses Characteristics.
Materials.
With my guidance and advice, as I cited, the Business Leader and/or the students must buy the materials that are needed in the course they select. I provide them with the material list with links. The vendor I recommend using is amazon.com
Educational Components.
I provide the following components of the program to the Business Leader and the students.
A. Business Leader's Guide. I give this comprehensive guide to the Business Leader in charge of the program. This document serves as a detailed resource that explains the educational method and the specific content covered in the program. It also includes an overview of its aims and outcomes. Here's an excerpt of the Business Leader's Guide (English, Spanish) for your reference.
B. A Periodical Report. After every session, I send to the Business Leader a brief report regarding: attendance consistency, engagement and teamwork participation, feedback and comments, progress, challenges and concerns, suggested improvements, among others. 
C. A Final Report. Seven days after the course, I send to the Business Leader this brief document that provides the overall results of the program. It also gives a balanced perspective and insights that can help the business better understand the effectiveness of the program. It includes the students' point of view, descriptions of their MM experiences, and some of their artistic results, in case they authorize these.
D. Session Plans. I provide the students with a detailed Session Plan. It serves as a guide that outlines the aims, topics, and dynamics of  every upcoming session. It also serves to trigger their interest and encourages them to ask me questions, share their comments, and experiences within the group, if that is their interest.
The Course's Length. 
1.5 months or 6 weeks.
The Course's Periodicity.
Once a week (consecutive weeks): 6 sessions
The Course's Duration.
Every session comprises 1:30 hour (90 min).
Total number of hours for each course: 9 hr.
Note: If 90 min is excessive for some companies, I adjust the sessions to 1 hr. Then, the program would comprise 9 hr., instead of 6 hr.
Schedules.
The Company Leader define the schedule according to the availability of the participants and my agenda. 
Languages in Which I teach the Course.
- English
- Spanish
Technical Characteristics. 
- I use either platforms: Zoom, Teams or I adapt to the platform that the company works on. 
- I employ 2 or 3 webcams: One focusing on the work area, another one on me, as the facilitator. Sometimes, I use a third webcam where I pose and illuminate diverse sculptures I make up for teaching the human head and body. 
- The Internet speed with which I work is 100 MB (upload and download data verified by https://www.speedtest.net).
- iMac desktops.
- I use a No-Break team to avoid any electrical interruption, in case it occurs.
Group Organization. 
Each group has a maximum limit of 20 people. This is to maintain the personalization of teaching. If the number of participants is over 20, I recommend generating a second group.
Costs.
The cost per group is USD $540.00, plus taxes (+ 16%, just in Mexico's case). This is the cost for the entire 9-hour course the company must pay in advance.
As I cited before, some companies in Mexico City are interested in taking this program in a face-to-face modality. If that's the case, I make an economic adjustment to the aforementioned price. This attending to the 20 maximum participants per group, as I've described. 
I provide a contract to the company to ensure my compliance with what the program entails.
Payment Methods.
You may use credit or debit cards through PayPal, or wire transfer.
Billing.
I will deliver an electronic invoice for your payment. 
Contact Me.
Contact me to learn more about the program. I'd send you an invitation via Zoom to discuss the learning method and ask me other questions you may have. This does not generate any commitment on your part.
Alternatively, you can email me at art@veronica.mx or call me at (52) 55 52 50 05 71 Ext. 801. Mexico City (Central Standard Time, CST), during business hours from 9:00 a.m. to 6:00 p.m.
Thank you for your interest. 
 1. Some companies in Mexico City are interested in taking this program in a face-to-face modality. This implementation is open to these companies.
2. Regarding to the practice of mindfulness meditation, I founded this program on the basis of the methodology designed by Jon Kabat-Zinn, Ph.D., who is an American medicine professor and the creator of the 'Stress Reduction Clinic' and the 'Center for Mindfulness in Medicine, Health Care, and Society' at the University of Massachusetts Medical School.
3. The program is aimed at healthy people, without mental disorders or in pain. It has an inclusive character, which is understood as open to the diversity of people regardless of gender, age, sexual orientation, religion, skin color and socioeconomic level.
4. Visit the following links to know more about my academic training and professional experience: multimediosintegrales.com, English, Spanish.
5. American Psychological Association, APA. (No date). What are the benefits of mindfulness. Retrieved on June 27, 2023 from https://www.apa.org/monitor/2012/07-08/ce-corner
Jon Kabat-Zinn. (1990). Full Catastrophe Living: Using the Wisdom of Your Body and Mind to Face Stress, Pain, and Illness. Publisher: Random House.
Jon Kabat-Zinn. (2003). Mindfulness-Based Interventions in Context:
Past, Present, and Future. University of Massachusetts, Medical School. Retrieved on August 5, 2023 from https://onlinelibrary.wiley.com/doi/pdf/10.1093/clipsy.bpg016
National Center for Complementary and Integrative Health, NIH. (No date). Meditation and Mindfulness: What You Need To Know. Retrieved on June 2, 2023 from https://www.nccih.nih.gov/health/meditation-and-mindfulness-what-you-need-to-know
Summary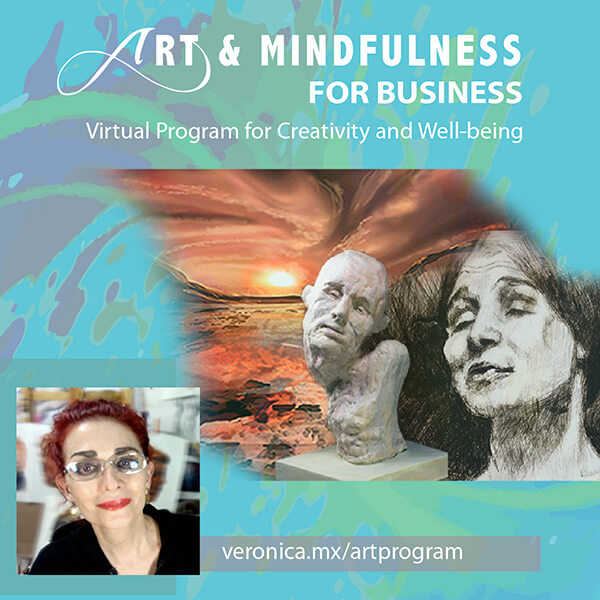 Service Type
Art and Mindfulness for Business Groups. Virtual Program for Creativity and Well-being.
Provider Name
Veronica Huacuja
,
Tuxpan 39-703 B
,
Cuauhtemoc
,
Ciudad de México
-
06760
,
Telephone No.+5255500571
Area
Description
Art & Mindfulness for Business Groups. Virtual Program for Creativity and Well-being.