You're welcome to another Art Blog. My name is Veronica Huacuja, a painter and an online art teacher for individuals and groups. I have some tips for your art process. Hope you find them interesting.
Previous comments. Literature is an incessant source of inspiration for our artistic work. To explain this, I will refer to a professional experience. Some weeks ago, I got the invitation to take part in a collective exhibition regarding Leonora Carrington (1917-2011, United Kingdom) (1), who, as we may know, was an extraordinary, surrealist, multidisciplinary artist–painter, author, sculptor–. Her work is mesmerizing, not to mention the interesting life she had.
So, I reread her biography, the interesting relationships she established with so many celebrities of her time, such as Max Ernst (one of her dearest lovers at the time), Peggy Guggenheim, André Breton, Edward James (her early benefactor), and many other surrealist artists. Let's not forget she lived the horror of the World War II in Europe, which is an important factor–besides knowing the Mexican, Renato Leduc (her first husband)–why she ended living in Mexico and adopting the English-born Mexican citizenship. 
Her story, "As they Rode Along the Edge" (1), inspired me to make up this piece. The data sheet of the latter is: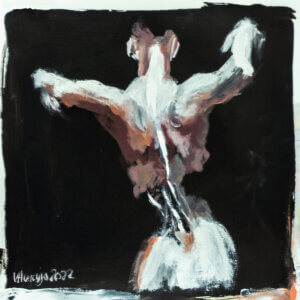 Title: Leonora 1. Homage to Leonora Carrington 
Artist: Veronica Huacuja
Medium: Acrylic on paper
Size: 25 x 25 x 0.1 cm
Year: 2022
Collection: Women
The excerpt of the cited story that inspired me making up the artwork was the powerful description of her protagonist:
"Her name was Virginia Fur. She had a mane of hair yards long and enormous hands with dirty nails." (2)
A comment on the side. As an artist, I rarely explain my version of my work. I try hard to make art that points in a direction without defining a destiny. I believe that journey has to be made by the observer.
There's a book written by the philosopher, Umberto Eco (1932-20116, Italy), "The Open Work", where he propounds the interpretation of an observer to a piece of art depending on his biography, beliefs, education, social environment, and many other personal factors. So, the main point of an artwork is to achieve polysemy, which are different meanings.
Material.
· Acrylic paints: Vermilion red, Cobalt blue, Titanium white and yellow. With only these paints, we can achieve the full range of the color wheel.
· Bristol paper (270 g / m2). It is a thick paper that withstands the humidity of the acrylic paintings without deforming.
· Rectangular brushes of various thicknesses, only about 1 inch thick or so. I use rectangular brushes and not round, as I can produce stronger strokes with them.
Let's deduce a significant meaning from the above. Would literature enrich our lives and our artwork? Yes, I believe so. Literature is a splendid and generous source for our art inspiration.
Lastly, if you find this work interesting and helpful, please FOLLOW my FAA feed (https://veronica-huacuja.pixels.com). Thank you!
Visit any time:
My ART SHOP: https://veronica-huacuja.pixels.com
My BODY OF ART: https://veronica.mx
I offer an ONLINE PAINTING PROGRAM in traditional or digital techniques: https://veronica.mx/online_painting_course
Other POSTS AND VIDEOS: https://patreon.com/veronicahuacuja
Thank you for reading. 
1 Carrington, Leonora. "As they Rode Along the Edge". The Seventh Horse and other Tales. Virago, Virago Modern Classics, 1989.