Welcome to another Art Post. I'm Veronica Huacuja, a plastic artist, and an online art teacher. I've some practical tips for your painting process. Hope you find them helpful.
A DIGITAL SOLUTION MIXED WITH TRADITIONAL TECHNIQUES OR THE WAY AROUND. As I've mentioned in some other blogs, I discovered Blender–a free and open-source 3D computer graphic software–on the Internet. I learned its basics in many free tutorials hosted on YouTube. There're plenty enough for any learning need you might have of this software.
One incredible thing is that because of this software's popularity, there are lots of developers, 3D artists, etc. that free share their work and you can download it. That's what happened in this work of mine: I used a rigged human figure made up on this software. "What a rig does is define the way the various parts of a model will move in relation to its other parts." (1)
To exemplify the aforementioned, I add the data sheet of the work I'm presenting: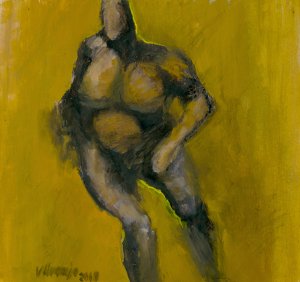 Title: Body Study 65
Artist: Veronica Huacuja
Media: Oil on paper
Size: 20.8 x 21 x 0.1 cm
Year: 2019
Collection: Human Body
THE PROCESS. One important thing to achieve in drawing or painting the human body (or an animal's body) is the dynamism that the figure must have, no matter if it is at rest or in movement.
SOME GOOD DETAILS TO KEEP IN MIND. To get acquainted with the latter, let's have a look at the body of art of the great masters of dynamic photography, that are Eadweard Muybridge (1830-1904, British and U.S.), and Étienne-Jules Marey (1830-1904, France). By the way, they both born in the same year and they died at the same age! And, they got to know each other and each other's work, but they didn't establish a close relationship. Let's not forget the boat made the transcontinental geographical distances in those years. This is because Muybridge lived and work in U.S. and Marey in France.
MY EXPERIENCE DOING THE ARTWORK. Why I used a 3D model when I could buy a nude artistic photo from commercial stocks or use others freely as an initial resource? The reason is that it's hard to find natural and dynamic poses in these galleries. So, having that in mind, I downloaded a free 3D Blender rigged human shaped model. Because it was a rigged, I could pose it in any position. I also defined the sources of light (casting the shadows). When I was satisfied with the results, I made a snapshot out of it.
PAINTING AND RECORDING THE PROCESS. The next step was to use, as an initial source, the cited snapshot. So, I sketched the figure on paper using a black crayon and painted it with an oil painting. You can appreciate the process in an 8 min video at https://www.patreon.com/posts/70780632
LET'S MAKE A MEANINGFUL REFLECTION FROM THE ABOVE. Have you ever mixed these two techniques: digital and traditional? If so, your creative process and initial resources expand.
Visit any time:
My ART SHOP: https://veronica-huacuja.pixels.com
My BODY OF ART: https://veronica.mx
I offer an ONLINE PAINTING PROGRAM in traditional or digital techniques: https://veronica.mx/online_painting_course
Other POSTS AND VIDEOS: https://patreon.com/veronicahuacuja
Thank you for reading. Hope you enjoyed the post.