Welcome to Art & Mindfulness for Schools. Virtual Program for Creativity and Well-being!
I'm Veronica Huacuja, M. Ed., M.S.R. (Master of Education, Master of Social Responsibility) (pronounced wu-a-koo-ha), a professional plastic artist and a seasoned art educator. I am the creator of this program.
I invite you to choose the following link to know more about my academic training and professional experience: English, Spanish.
As I've mentioned, I designed this educational program for schools who seek to give their mother's community an artistic enjoyment that provides them with anti-stress relaxation and self-knowledge. 
My teaching encourages participants to a journey that provides them with tools that enrich their lives improving their intra and interpersonal life through artistic enjoyment and mindfulness meditation. Likewise, the program promotes a learning environment of mutual support among the group.
Background. Primary Goal for the School.
The primary goal of this program is to improve the quality of life for school mothers at your institution. As we may know, this population—one of the school's stakeholder, a very important one, who is the decision-maker when choosing a school for their children—is relevant to school authorities.
This teaching aligned to the school's internal Social Responsibility Program (SRP), addresses a human aspect of your institution. Therefore, it promotes personal growth for school mothers, leading to enhanced performance and overall results for the school. 
Likewise, these efforts that schools do for this stakeholder are strategies that make up an essential part of the public image of the school's reputation, which increases it and improves its worth. The school authorities can include this learning and its results in the School's Annual Social Responsibility Report. 
An Important Reality.
Nowadays, school authorities know that school mothers who cultivate a stress-free lifestyle become invaluable guides for their children's emotional well-being. Through leading by example, fostering open communication, and teaching emotional regulation, these parents empower their children with the skills to navigate life's challenges with resilience and serenity.
This programa can be implemented through the Parent-Teacher Association.
The Program's Goals.
1. The encourage of participants to incorporate an artistic hobby into their daily lives (drawing, painting, or clay sculpting). By embarking on an artistic journey, individuals are provided with a unique avenue for self-expression and exploration. The act of artistic creation on an intrapersonal level can evoke a wide range of emotions, provoke introspection, and spark contemplation, leading to personal growth and a deeper understanding of oneself.
Moreover, art transcends the boundaries of the individual and extends into the realm of interpersonal connection. By integrating art into group settings it becomes a powerful tool for fostering genuine social bonds and encouraging meaningful conversations. Engaging in artistic activities as a collective promotes collaboration, empathy, and a shared sense of purpose and belonging, where diverse perspectives converge and mutual understanding is cultivated.
These strategies encompass not only the practical aspects of artistic creation but also the facilitation of a supportive and inclusive environment. Participants are guided through various exercises and techniques that unlock their creativity, nurture their artistic skills, and these enhance their overall well-being.
2. Adopt a daily mindfulness practice. This program encourages participants to embrace the benefits of daily mindfulness practice. It aims to be an introductory approach to the topic. I guide the practice directed towards self-awareness, stress relief, self-regulation, and with it, achieve physical well-being.
As we may know, the origins of mindfulness lie in ancient Buddhist practices. In the West, since 1970, mindfulness has been adopted as a therapeutic practice—free from mysticism or religious aspects—, which provides its benefits of meditation exercises. This is the approach that ART & MINDFULNESS embraces.
Likewise, the school's interest in giving the community mothers the mindfulness experience to enhance their lives are grounded in a multitude of research studies. These studies show the wide-ranging benefits of incorporating the mindfulness practices within diverse populations, mothers among them. (1)
3. Knowing the family importance. Each session of the program fosters the participants to communicate their experiences with their families (spouses, children). This to create a spill of human experiences that seek the well-being of the students and their family environment.
Other Relevant Aspects. 
I attend to the interests of the group, their level—beginners, intermediate, advanced—personalities, needs and learning rhythms.
I do the teaching in real-time.
Educational Components. 
I provide the following components of the program to the School Leader and the students.
School Leader's Guide. I provide this comprehensive guide to the school leader in charge of the program. This document is a detailed resource that explains the educational method and the specific content covered in the program. It also includes an overview of the aim and its outcomes. I recommend the School Leader review this document to gain a full understanding of the program and its potential benefits for its community. Here's an excerpt of the School Leader's Guide for your reference: English, Spanish.
Session Plans. To ensure that the participants are well-prepared and engaged, I provide them with detailed Session Plans before each session. These easy-reading documents give them a clear understanding of what to expect. It also helps them to prepare any necessary materials or questions in advance. 
THE PROGRAM COURSES. THE EDUCATIVE OFFER.
The program comprises 6 courses regarding painting, drawing, and sculpting (in clay). With my guidance, the group may choose the activities, techniques, and materials according to their interests. 
Please visit the following links:
Art Courses   (English )
Cursos de Arte (Spanish)
The courses characteristics
Materials
As I've mentioned, under my guidance and advice, the students may purchase the materials of their choice. To assist them, I furnish a list of materials along with corresponding links. I recommend using amazon.com as the online vendor.
Length of the courses
1.5 months or 6 weeks
Periodicity
Once a week (consecutive weeks): 6 sessions
Duration of each session
1:30 hour (90 minutes)
Total number of hours for each course: 9 hrs.
Schedules
We define the schedule according to the availability of the participants and my agenda. 
Languages in which I teach the program
– English
– Spanish
Technical characteristics 
– I use either platforms: Zoom or Teams, or any other platform the school uses.
– I employ 2 or 3 webcams: One focusing on the work area, another one on me, as the facilitator. Sometimes, I use a third webcam where I pose and illuminate diverse sculptures I make up for teaching the human head and body. 
– The Internet speed with which I work is 100 MB (upload and download data).
– iMac desktops.
– I use a No-Break team to avoid any electrical interruption, in case it occurs.
Groups' organization  
Each group has a maximum limit of 20 people. This is to maintain the personalization of teaching. If the number of participants is over 20, I recommend generating a second group.
Costs
The cost per group is USD $540.00 (+ 16%, just in Mexico for taxes reasons). This is the cost for the entire 9-hour course you must pay in advance.
I offer a contract to the School Leader to ensure compliance with what the program stipulates.
Payment methods
You may use credit or debit cards through PayPal, or wire transfer.
Billing
I will deliver an electronic invoice for your payment. 
Contact me
Contact me to learn more about the program. I'd send you an invitation via Zoom to discuss the learning method and ask me other questions you may have. This does not generate any commitment on your part.
You can also email me at art@veronica.mx or call me at (52) 55 52 50 05 71 Ext. 801. Mexico City (Central Standard Time, CST), on working days, during business hours from 9:00 a.m. to 6:00 p.m.
Welcome!
1 Bibliography
American Psychological Association, APA. (No date). What are the benefits of mindfulness. Retrieved on June 27, 2023 from https://www.apa.org/monitor/2012/07-08/ce-corner
Jon Kabat-Zinn. (1990). Full Catastrophe Living: Using the Wisdom of Your Body and Mind to Face Stress, Pain, and Illness. Publisher: Random House.
National Center for Complementary and Integrative Health, NIH. (No date). Meditation and Mindfulness: What You Need To Know. Retrieved on June 2, 2023 from https://www.nccih.nih.gov/health/meditation-and-mindfulness-what-you-need-to-know
Summary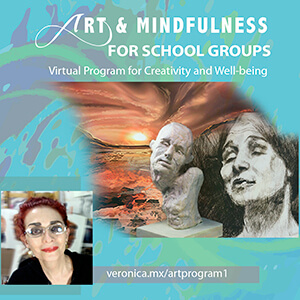 Service Type
Art and Mindfulness for Schools. Virtual Program for Creativity and Well-being
Provider Name
Veronica Huacuja
,
Tuxpan 39-703 B
,
Cuauhtemoc
,
Ciudad de México
-
06760
,
Telephone No.+525552500571
Area
Phone Ext. 801, Online Learning
Description
Art & Mindfulness for Schools. Virtual Program for Creativity and Well-being. Program aimed at mothers of the school community.